I Heart Michael Ball and other Monologues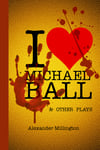 By Alexander Millington
'I'm not a creep or a freak or anything like that...'
It's the 10th bi-annual meeting of the Michael Ball Appreciation Society and Alex, their founder, has a special surprise to mark the occasion.

Alex has been obsessed with Michael Ball since he was a young boy, when he first heard The Very Best of Michael Ball in his brother's car. Just as the conductor directs his musicians, Alex orchestrates a fiendish plan to finally meet the blue-eyed boy from Bromsgrove.

I Heart Michael Ball is a one-hour one-man show exploring themes of grief and obsession through audience interaction.
"Everyone needs to see Alex Millington in I Heart Michael Ball!" - Michael Ball
From production of Three Way by Alexander Millington
"Millington writes distinct but complementary pieces that intertwine to paint a refreshing point of view." – Broadway World
Use the promo code FREEPOST to purchase this directly from company whilst on tour. Simply order and pay online and the book will be ready for you to collect at whatever performance you are attending.