Blowhole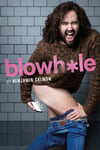 Meet Him.
He's gay, twenty-something, and aspiring to be Billie Piper circa 1999.
For now though, he's still single, still horny, and still perfecting his bum-hole selfie in the work toilets. Rock bottom's never been so fabulous.
Blowhole is a screengrab of the pitfalls of swipe-right culture - and about one gay man's journey to find connection in a world that feels seemingly devoid of real intimacy.
"An outrageously raw, brazenly queer new comedy depicting life and love in your twenties." - Bakchormeeboy
"Imaginative storytelling and magical - theatre does not come any better than this" - Boyz Magazine
"Side-splittingly hilarious, a celebration of bringing queer stories to the forefront" - TheatreAndOtherThings
Benjamin Salmon is an award-winning playwright, screenwriter and actor. Benjamin was featured on SISTER Pictures and South of the River Pictures' Screenshot 2020 commendation list of the most promising comedy writer-performers based in the UK.
His spec script for television, CHUTZPAH, was nominated for the All3Media Best New Comedy Script award at the 2022 Edinburgh TV Festival New Voice Awards.
His other playwriting credits include LOVE BOMB (July 2023, National Youth Theatre) and Our House (September 2019, National Youth Theatre) - a site-specific queer epic performed at Eltham Palace, which went on to win a UK Heritage Award for Best Live Event.
His other acting & performance credits include: Story of our Youth (Shaftesbury Theatre), Miller & Salmon: Genesis (Soho Theatre), The Interview (The Mono Box), Timeless (National Youth Theatre / Team Angelica) and Twelfth Night (National Youth Theatre).