A Caravan Named Desire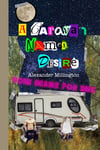 By Alexander Millington
Helen and Alexander have a new show. The set is a caravan. And it's all true.
Working from a caravan has its ups and downs. Clients come and go. Ask them no questions and they'll tell you no lies, just take the money at the door. But something's different about this new client.
Discreet, professional, clean and tested. For a good time, come to the caravan. Your desire for hire.
A Caravan Named Desire explores desire and sex work in the UK through interactive performance.
"…a courageous exploration of the limits of collaboration... Anything by Alexander and Helen Millington is worth coming for." Fringe Review
"…a imaginative and inventive two-handed play …adventurous, creative, challenging theatre" Buxton Fringe Review
A Caravan Named Desire toured the UK in summer 2023
Other titles by Alexander Millington: Three Way and I heart Michael Ball
Use the promo code FREEPOST to purchase this directly from company whilst on tour. Simply order and pay online and the book will be ready for you to collect at whatever performance you are attending.